Attorney Nicholas P.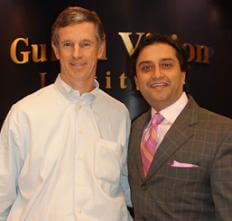 I had a large pterygium that caused pain and irritation every 2-3 months.
I heard of Dr. Gulani in the news section of a Jacksonville Magazine. My very experienced eye surgeon himself vouched for Dr. Gulani's skills.
My experience at GVI has been Excellent
Dr. Gulani is very professional and skilled, highly recommend to others.
He performed his "No-Stitch" Amniotic surgery and there is now a vast improvement in the appearance of my left eye

He is outstanding at all levels from skills to personal touch and follow up.
I shall recommend all my attorney friends to see him if they want the best.
Attorney Nicholas P., ESQ
Jacksonville, FL