Ashley T. (Douglas, GA)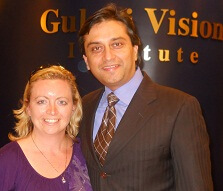 I was blind I couldn't put on makeup correctly because I couldn't even see myself in the mirror clearly.
I was referred by my eye doctors who were aware of Dr. Gulani's expertise.
At GVI, everything is Wonderful everyone was friendly and professional.
He was able to perform Advanced Laser ASA on my thin corneas and I am no Free to live my life.
"Dr Gulani is the only one I trust to do surgery on my eyes."
I will refer everyone I can.
Ashley T.
Douglas, GA