Arlene T. (Waycross, GA)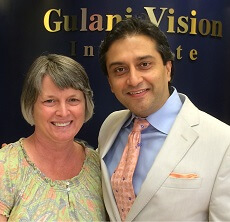 I had given up all sports because I'd lost my confidence due to vision. Professionally my vision was a hindrance. Now after surgery, I have freedom to return to activities that I love.
I learned of GVI from a co-worker who also had a tremendous outcome from Dr.Gulani's surgery.
At GVI, we have experienced Professional staff, expedient, efficient. Quick results. Definitely unique in a positive way.
Dr. Gulani teaches as he examines. His instruction is precise; he reviews what he tells you. Very personable + makes you feel at ease.
It's going to be wonderful to swim, ski, hike and garden. No more expensive eyewear!
Very skilled + knowledgeable. Dr. Gulani risked his good reputation to help a 53 yr old woman with multiple eye problems. He could make no guarantees but he has given me back a more active life and made it possible for me to continue doing that I love-teaching!
Definitely will refer ! I've already given his phone # twice.
Arlene T.
Waycross, Georgia