Anne B.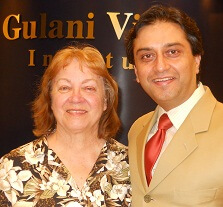 My right eye was 20/400 (legally blind) after 3 detached retinal and cataract surgeries with other surgeons.
My son (Doug Bevan; editor of a Golf Magazine had interviewed Dr.Gulani and was amazed at his abilities). He and my several friends (who had surgery with Dr.Gulani) asked me to see him.
At GVI, my experience was 100% positive- personal and professional care from everyone in the office- particularly Dr. Gulani.
Dr.Gulani is The BEST ever! Not only is he caring, personal- and very easy to look at- he is creative and positive and able to do whatever necessary to give the best vision possible.
He performed his corrective Laser surgery to correct my previous eye surgeon's mistakes and I am Thankful to be able to see and enjoy traveling, playing golf, and working.
Dr. Gulani goes above and beyond in his care- skill level and education are exemplary. A God Given Talent!
I absolutely will spread the word. His passion for excellence is Amazing!
Anne B,
Jacksonville, FL