Amy G.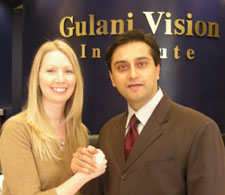 My Pterygium caused inflammation and redness in my eye.
My eye doctor in Orange Park recommended Dr. Gulani as the best surgeon for Pterygium removal.
My experience has been Great ! Never felt apprehensive or uniformed.
Dr. Gulani was very informative about my surgery and very caring during.
I am grateful to not have "red eyes" in pictures from inflammation the Pterygium caused
I think Dr. Gulani's skills and bedside manner are Great, I never had a Dr. give me so much information and made sure I understood.
—
#GulaniBeyond2020
Being in the medical field I am impressed with the consistency of Dr. Arun C. Gulani. I am 13 years post-op from having my suture-less Pterygium surgery with no recurrence. He remembered who I was and still has the same excellent bed side manner as he did 13 years ago.
-Amy G.
– Orange Park, Florida
Speech Pathologist