Amanda M. (Melbourne, FL)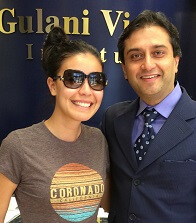 My pterygium growth was concerning. I'm happy to finally have it removed with Dr.Gulani.
I did my own research online and looked at all options and travelled to Gulani Vision Institute.
Dr. Gulani is very passionate and knowledgeable about his work. He guided me throughout the entire process so I knew what to expect.
I'm happy he performed his "no-Stitch" amniotic graft surgery on me. I'm excited to see clearly again without a constant dry, red eye.
He is very caring towards his patients.
I shall absolutely refer all my friends and family to travel to Dr.Gulani
Amanda M.
Melbourne, Florida