Implantable Lenses / ICL / Phakic IOLs
As a highly trained and experienced eye surgeon, Dr. Gulani offers more than just LASIK to provide his patients their best vision. For instance, an alternative to LASIK is the use of a phakic IOL or an Implantable Collamer Lens (ICL) for treatment of nearsightedness (myopia). This lens is called The Visian ICL.
Visian Implantable Lenses
Welcome to the Gulani Vision website, please upgrade your Flash Plugin and enable JavaScript.
Visian ICL
The Visian® ICL, or Implantable Collamer Lens, received FDA approval in December 2005. It is used to treat patients with moderate to severe ranges of nearsightedness. This contact lens-like implant is inserted inside the eye permanently in addition to your already present natural lens. This implant is a miniature artificial lens that is inserted inside the eye, placed behind the cornea and iris and in front of your lens. This technology is permanently placed to increase the focusing power of your natural lens in correcting your vision.

The Visian ICL has been shown to be highly effective for patients with a wide range of refractive errors. In fact, the Visian ICL can correct myopia from as low as -3.0 diopters to -16.0 diopters and reduce myopia from -16.0 diopters up to as high as -20.0 diopters, with or without astigmatism. Until now, some of individuals that were not candidates for surgical eye correction (LASIK) had no choice. Today, there's the Visian ICL. As of 2008, there were more than 80,000 Visian ICL implants performed worldwide. And when asked about the Visian ICL procedure, over 99% of the patients indicated that they were highly satisfied.
What is ICL (Implantable Contact Lenses)
ICL is what most people refer to as "implantable contact lenses," the FDA prefers the term "implantable collamer lenses" to avoid confusion with regular contact lenses. The implantable lenses are made of collamer, which is a type of collagen. These implantable contact lenses surgically inserted into the eye, giving you a more permanent solution to traditional contact lenses, and if your vision does change, these lenses can be replaced with a different prescription.
Implantable Contact Lens & ICL Surgery
Implantable contact lenses are inserted through a tiny incision made in the cornea. Then they are placed in front of the eye's natural lens. Implantable Collamer Lens have already been shown to be safe and make an effective alternative for treatment of nearsightedness.
Dr. Gulani, with his ability to offer the full spectrum of vision correction surgery, can also perform Advanced Laser Vision Surgery following your ICL implant. This combination surgery, called "Bioptics," can aim to achieve your individual vision goals.
---
Implantable Contact Lenses Testimonials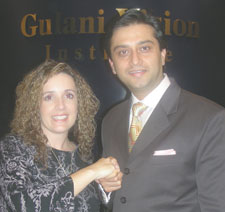 Sara Messer - Visian ICL Testimonial
My vision was terrible. I was so nearsighted that I couldn't even see the big E. I wore contact lenses for years. One year ago, I had to quit wearing my contacts and wear glasses. It made my vision seem even worse. I didn't want to swim with my children anymore, because I couldn't see. Theme parks and sports became a nightmare because of glasses falling off or fear of getting broken.
I had been seeing my optometrist (eye doctor) for four months. I was having terrible problems with redness, burning, dry eyes, and even more blurry vision. I could hardly function. We didn't like the surgical option that the eye surgeon specialist, who he originally sent me to, recommended.
My eye doctor had been to a seminar that Dr. Gulani taught at, and was so impressed, that he asked me if I wanted to see another specialist. I thank God he sent me to Dr. Gulani.
Dr. Gulani implanted Visian ICLs in both my eyes and I can see clearly and feel free.
At Gulani Vision Institute, the staff is wonderful. Everyone is very professional and courteous. They make you feel welcome the minute you walk through the door.
From the first day I left Dr. Gulani's office, I knew that this was the doctor that I wanted to do my surgery. He is very patient, understanding and takes pride in his work. My husband was a little worried about me having eye surgery. He came with me to my pre-op appointment and left very impressed and relieved after meeting Dr. Gulani.
I will now expect all of my other doctors to be like Dr. Gulani. Although I think he will be hard to duplicate. I will definitely refer everyone to him.
- Ms. Sara Messer-
Gainesville, Florida
---
For more information about implantable contact lenses or the Visian ICL, and whether you might be a candidate, please feel free to call Gulani Vision Institute at 1-888-LASIK-16 or 904-296-7393, or send us an email.
* Click Here to Schedule Your Free Lasik Consultation
I look forward to seeing you and answering all your questions during your personal consultation with me.
* = required
Privacy Policy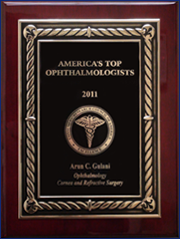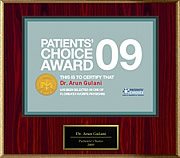 HNA
Want the latest news? Visit our Blog.
Always making News...
Advanced Vision Surgeries
Contact Us, Financing & Other Helpful Links
Gulani Vision Institute 8075 Gate Parkway (W) Suite 102 & 103 Jacksonville, Florida 32216
Map & Directions
1-888-LASIK-16
1-888-LASIK-16 Jacksonville, FL