Dr Gulani Vision Blog
Taking Red out of Golfer's Eyes
Thursday, May 12, 2011
Spring is here and it's time once again for the world's most popular golf event to unfold in the beautiful North Florida sunshine! Beginning May 5th, THE PLAYERS Championship (TPC) at Sawgrass in Ponte Vedra Beach will draw golfers from around the globe.

And, while they are widely touted and enjoyed by many, golf is also one of the many outdoor activities that can increase the risk of sun-related scarring or lesions in the eyes called Pterygium (an unsightly raised, wedge-shaped growth across the cornea that, left untreated, continues to grow and may eventually adversely affect vision).
"Pterygium is fairly common among sports and recreation enthusiasts as well as outdoor workers," said Jacksonville Ophthalmologist Arun Gulani. In the past, Gulani noted, due to surgical procedures that failed to permanently eliminate the lesion, many people opted to suffer unnecessarily with the unattractive malady for years. Gulani says that this is no longer necessary, as he has developed a revolutionary new advanced procedure that permanently eliminates the scarring. Calling it his "Iceberg Concept," Gulani said. "The part of the Pterygium that you see is just the tip of the iceberg. The actual growth may be much deeper, and our advanced surgical technique addresses that."
Using Diamond Bausch & Lomb surgical instruments (invented by Dr. Gulani) and glue rather than stitches, the new Gulani "Iceberg" procedure also utilizes a new generation Dehydrated Human Placenta which adheres to the eye and promotes the healing process. This produces immediate cosmetic improvement in appearance and has provided new hope for long-time sufferers of this sun-related and sometimes genetically predisposed eye condition.
Pro Golfers like Donnie Hammond and Kenny Knox, as well as many aspiring local golfers, have undergone this advanced surgery with Dr. Gulani and are back on the greens with added vengeance.
"The redness and cloudiness are gone!" declared Louis Ballantyne, whose left eye lesion had grown nearly to his pupil when he underwent Gulani's advanced "Iceberg" surgical procedure. "I play golf as a hobby, and I can now track my golf ball for 100 yards – something I couldn't do before surgery," said Ballantyne. More than the improved vision, though, the pro notes that he no longer suffers the extreme discomfort caused by Pterygium, both physical and emotional. "At the end of the day, my eye was an angry red," he said. "It would sting and felt like it had sand in it." In a country club setting where constant, friendly, upbeat communication with guests is a given, Ballantyne found that his perpetually red eye brought constant comments such as "What's wrong with your eye?" "Now, we talk about the game, not my eye," he said, grinning.
"In my eyes Dr. Gulani is number one!" says past Commissioner for Golf, Deane Beman. "Excellent vision is essential to gain an upper hand on your opponent during the exacting game of golf," said Gulani. "And just the basic communication through eye contact improves immensely once the eye is no longer red, irritated and tearing."
With patients from all over the world flying to Jacksonville for this futuristic surgery, Dr. Gulani recently taught this new super-specialty to eye surgeons from all over the world at the American Society Conference for Eye Surgeons in Chicago and has accepted invitations to teach his innovative concepts at national and international conferences this year in Hong Kong, Berlin, Hungary and Asia. "It's time to take the red out of eyes all over the world," said Gulani.
Call to schedule your consultation today.
Add Comment
I look forward to seeing you and answering all your questions during your personal consultation with me.
* = required
Privacy Policy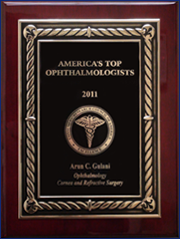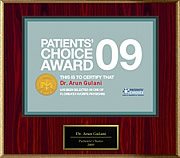 HNA
Want the latest news? Visit our Blog.
Always making News...
Advanced Vision Surgeries
Contact Us, Financing & Other Helpful Links
Gulani Vision Institute 8075 Gate Parkway (W) Suite 102 & 103 Jacksonville, Florida 32216
Map & Directions
1-888-LASIK-16
1-888-LASIK-16 Jacksonville, FL